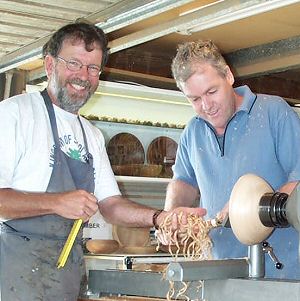 Shane specialises in tuition and problem solving for beginners to advanced turners.
READ WHAT SHANE HAS TO SAY...
I can offer an extensive package covering many aspects of woodturning.
· Timber preparation and selection.
· Various mounting methods into the lathe.
· Tool control and cutting techniques
· Sharpening methods on all tools
· Sanding and total finishing methods.
A step by step program will give you a clear understanding of woodturning methods and give you a chance to ask any question you like.
Sessions are now available for up to 4 people per day.
You will have a lathe to yourself, with all tools and materials supplied, or you can bring your own.
Work on your own project at your own pace. With practical help and suggestions from Shane.
Hands on tool work.
Learn the safest method.
Learn how to cut cleanly.
Use the latest tools.
Build on your creative skills.
Take your project home.
Have fun while you learn
Tea and coffee supplied, bring your own lunch
HANDY HINTS
Make sure your lathe is set up at a comfortable height for you. This is very important and often overlooked by many beginners. If your lathe is set up at an incorrect height it can make you very tired and definitely upset your concentration. I have found the correct height for most people is to have the turning centre of the lathe set up 75mm above the elbow. This measurement is taken from the floor up when your arms are down the sides of your body. A good mat on the floor or cover board to stand on is helpful.
Set your self up good lighting above and around your lathe. You need to be able to see very clearly, the cutting edge. If you make a mistake when turning, it is a definite advantage to be able to see clearly what went wrong and how to fix it.
When grinding your woodturning tools try and roll the tool around the shape as slowly as possible, to give the grinder a chance to remove enough material to create a hollow ground surface. Very little pressure is needed using this method. I have found the 80 grit white wheel stone to be the best.
Use quality sand papers for finishing and steadily work down through the grades of sandpaper to remove all scratches from your work.
Have as many woodturned articles around your work space as possible. This helps you to compare forms, develop ideas, and progress on to other challenges with your woodturning. Keep your mistakes rather than throw them in the bin, as this will remind you not to make the same sort of mistake again.
If there is a woodturning or woodworking club near you, join it and get involved. Be prepared to ask questions and seek advice from other people who are already turning.
FINALLY ABOVE ALL ELSE HAVE FUN!