If you have any questions or queries about woodturning, woodturning tuition, or woodturned pieces, please contact me by the email form below...
Shane Hewitt
2 Pah Road
Onerahi
Whangarei
New Zealand

Phone: +64 9 436 1976
Fax: +64 9 436 1971
LOCATION
2 hours drive north of Auckland or 30 minutes by plane. 1 minute from Whangarei airport. 2 minutes from motel accommodation. 10 minutes to Whangarei town centre.
EMAIL US USING THE FORM BELOW
General information about the two most popular New Zealand native timbers
Source: Collins Handguide to the Native Trees of New Zealand by Ken Stewart.
KAURI Agathis australis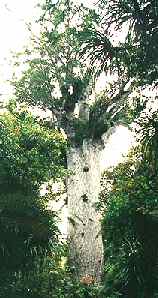 Family: ARAUCARIACEAE
Largest of New Zealand trees, towers up to 30 m or more, trunk diameter 3-7 m. The tree is resinous and when wounded excudes a sticky white gum which hardens, clears, and forms lumps that drop to the ground as Kauri gum. Young trees (rickers) have tapering, narrowly conical crowns but in mature trees the crown is flat-topped with great branches spreading up to 30 m in diameter. Largest Kauris have been estimated at 2000 to 4000 years of age.
Bark
Shiny ash-grey, falling in large think flakes, hammer marked.
Leaves
Juvenile 5-10 cm; adult alternate, blunt, short, stiff, 2-4 cm long.
Flowers and fruits
Male cylindrical, 2.5-5 cm long; female cones, green ovoid, to 7.5 cm diameter, when ripe release winged seeds. Monoecious.
Distribution
Lowland forests from Northland to latitude 38ºS.
Uses
In the past, many uses: Maori canoes, later boatbuilding, furniture making, and woodturning; the gum was processed in varnishes and paints.
RIMU Dacrydium cupressinum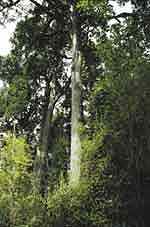 Family: Podocarpaceae
One of New Zealands most beautiful trees. Its straight, tapering trunk stands out in a forest, towering up to 50 m, with a diameter of 2 m. In natural stands maturity is reached in approximately 300 years, but life span could be 800 to 900 years. Young trees have a graceful, weeping appearence.
Bark
Dark greyish-brown, shed in irregular flakes leaving a wave pattern on the trunk.
Leaves
Olive green, small, close set, scale like.
Flowers and fruit
Dioecious. Flowers appear at tips of branchlets; male solitary, or rarely in pairs; female, solitary, appear September-January. Seeds dark, about 3mm long, set on a fleshly red base, from March.
Distribution
Throughout New Zealand. Tallest trees found in central North Island and South Westland. Main standing reserves are on the West Coast of the South Island.
Uses
Heart timber is beautifully grained, used in house building, furniture, panelling and woodturning.