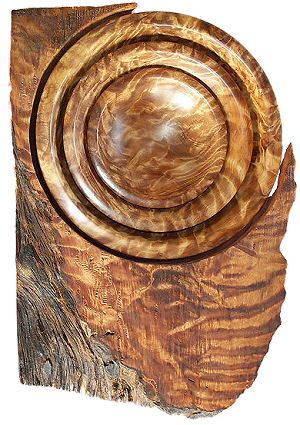 SHANE HEWITT ON WORKING WITH WOOD
Working with wood as a medium holds unique and exciting challenges for me as a woodturner.
I enjoy sharing the knowledge I have gained over 30 years with those who are interested. There is such a wide range of design ideas, that can be created with New Zealand timbers. Reclaiming Kauri stumps from the ground is a great challenge. Timber that has been hidden away for many years, is exposed for the first time and each one I uncover is individually special. Each block I cut with the chainsaw ready to go into the lathe holds surprises for me!
It is when the wood is spun in the lathe that the secrets of grain and texture are fully revealed. I enjoy the challenge of getting the maximum out of each piece of timber I work with, coordinating design and finishing techniques.
QUALIFICATIONS
Fully Indentured Woodturner
Teaching Diploma in Tertiary Education
Shane has been at the developing edge of woodturning in New Zealand for many years. He has run courses at the Northland Polytechnic for 16 years, and has passed on his skills to many people, in doing so has helped raise the standard of Woodturning in New Zealand.
He now works from his workshop at home in all aspects of woodturning. He is a distributor for all woodturning equipment, including tools, lathes and accessories.
Shane specializes in 1on 1 tuition for beginners or advanced turners and will set a course to suit the needs in any area of woodturning.
Many people that Shane has taught are using their woodturning skills in NZ and overseas. Shane has travelled New Zealand as a demonstrator at Woodturning Seminars and Demonstrations, in: Kaitaia, Whangarei, Auckland, Hawkes Bay, Matamata, Rotorua, Hamilton, Putaruru, Gisborne, Nelson, Wellington, Timaru, Dunedin & Christchurch.
He has also Demonstrated in
Melbourne, Sydney, Brisbane, Honolulu, Provo Utah and London.
Pieces in Exhibtions at
Dowse Art Gallery, Wellington
Textures Gallery, Auckland
Compendium Gallery, Auckland
Pumphouse Gallery, Auckland
Art Stop Gallery, Whangarei
Art of Turned Wood Exhibtion Aotea Centre, Auckland
Pieces held in Private Collections throughout the world